The NEEDLING DUO includes:
Application areas
ageing skin and wrinkles
cell renewal
pore refinement
acne scars
lip volume
skin discoloration and pigment disorders
stretch marks
Use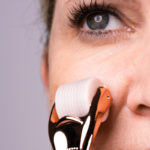 Disinfect the M1 SELECT NEEDLING derma roller before and after each use; rinse thoroughly under hot water.
Thoroughly cleanse and disinfect the skin area.
Apply light pressure and roll 8-10 times horizontally, vertically and then diagonally both ways.
Apply M1 SELECT PURE hyaluronic serum and massage into the skin until absorbed.
Use the microneedle roller 1-2 times a week, preferably in the evening.
Safety advice
Do not use on open wounds, abrasions, active skin infections such as herpes, acne, neurodermatitis, psoriasis or other chronic skin diseases, general active skin diseases, skin cancer, skin warts, keloids, hypertrophic scars, blood coagulation disorders or when taking blood thinning medication. For hygienic reasons, the M1 SELECT NEEDLING derma roller may only be used by one person. Use the roller at your own risk.